Monday, June 13, 2011
Last May 27 we watched Kung Fu Panda 2. It was little Missy's 3nd time to watch a movie in a cinema and I'm glad everything went well.

One trick I try to do when we watch a movie with her is to buy her some toys, usually free ones from fast food happy/kiddie meals. By having a replica of the character in her hand, she becomes more absorbed and involved in the movie. So the day of the show, we brought along Po and Baby Po and she had both in her hands the whole time during the movie and was even mimicking their moves and lines.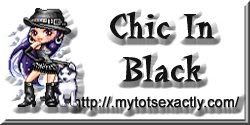 We had so much fun watching it and we're (Daddy, Mommy and Little Missy) looking forward to out next movie. I think the next one on our list is Puss in Boots :)
Hope you all have a great week ahead. Happy Monday!
To join us in Chic In Black, please visit our first post for the mechanics -
Chic In Black Monday #1
and then join our linky below.
Like this post?
Subscribe to this blog by email HERE
Get updates via Facebook HERE
Follow me on twitter HERE