Tuesday, May 10, 2011
First off, I'm sorry I'm posting this about day and a half late. I had to look after my 2y/o who we took to the ER last Sunday (will post another story about it in a bit). Since then she'd been extra clingy and didn't want me to leave her side. I had to monitor her temperature too because though hubby and I felt she was hot, she was only running a temp of 36.4C to 36.8C most of the time so I couldn't give her the paracetamol.

Anyway, I will be extending CIB until Friday for more Chic participants. My entry for this week is on top of my wish list. It's an iPad2. I know it will take lots of time before I can buy one but in the deepest bottom of my heart I know I WILL get one, no matter what. Why? My little girl says my phone is hers. Almost all the apps are hers. When her daddy calls, she automatically hits Decline because she's in the middle of her game (then Daddy will call our landline). When someone sends an SMS, she automatically hits Close (which is better than hitting view, at least I still get a notification).

So for her, I'm wishing for an iPad, in black of course, and the keyboard that comes with it in this picture. Having a keyboard with it, and hubby's mobile internet means I can blog too most of the time (if little Missy's not using it, of course).


Photo courtesy of iPadcasenow.net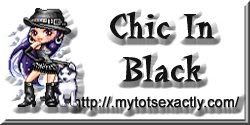 Isn't it just Chic? I've never really been a fan of Apple until hubby was contacted by Globe for his eligibility for the iPhone4 as his reward. Then hubby bought a Macbook Pro for their company for mobile and web development. I got a chance to use it and liked its simplicity. I haven't touched an iPad yet but I know my little Missy will love it.
Some people say it's not right for us parents to indulge our children with such "material" things. I don't leave her at it all day. I only like it for her because she's learned so much. She's read more books that I have (yes, read not listened). She's now learning addition and subtraction. She learning to how to play strategic games even if it's just through a simple maze. I spend 24 hours with her, every day, so I still give her the emotional, psychological and whatever it is critics say parents should give their children. :D
Hope you all have a great week ahead!
To join us, please visit our first post for the mechanics -
Chic In Black Monday #1
and then join our linky below.
Like this post?
Subscribe to this blog by email HERE
Get updates via Facebook HERE
Follow me on twitter HERE